Napa County Seed Library
$

6,731
raised from
59

donations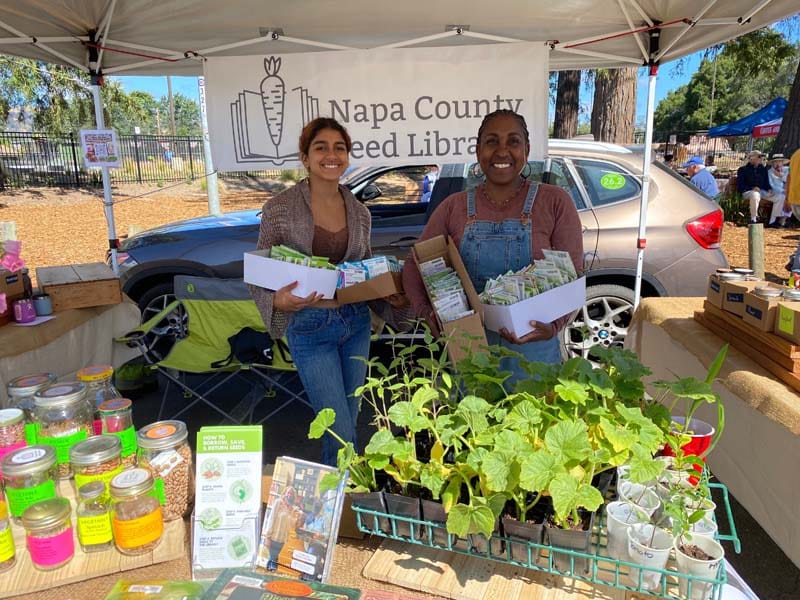 How We Impact the Community
The Napa County Seed Library, a free resource for seed saving and sharing, is one of 600 seed libraries established worldwide that empowers gardeners to re-learn and practice the time-honored tradition of seed saving.
Our network of seed library annexes is designed to reach all neighborhoods of Napa County and offers free, organic seeds year-round. Since 2020, our seed exchange program distributed over 1,000 packets of organic seed to home gardeners and received a growing percentage of locally generated seed each year.
Our mission to grow, save, and share locally adapted seeds comes from a passion to teach, expand, and connect. We teach essential seed saving skills through seminars and videos. We expand the number and diversity of plants adapted to our region to support our local food system. Together, we connect and invigorate our community—one seed at a time.
Other Ways to Help
Volunteer opportunities
Farmers market event booth assistance
Seed processing help
Envelope folding, stamping, and/or labeling
Organization of seeds for long-term storage
Skilled photography and video production
S

ocial media and graphic design support
Donations needed
Non-GMO, organic, untreated seed (heirloom or locally-adapted preferred)
Clean glass jars with lids
Strawberry baskets
Light cardboard gift-size boxes
Clay desiccant packets
Clean, milled lumber (redwood, 4x4 posts)
Bathroom cabinet or other furnishings with enclosed interior access
No/low cost ad space in local print and radio media
Testimonials
We are so happy to be collaborating with you to educate, inspire and empower more people to grow their own food! Thank you so much Lauren!
Rob Greenfield, activist and humanitarian dedicated to sustainability, equality
Donors List
Share this campaign
Explore other nonprofits