Napa Valley CanDo
$

19,965
raised from
128

donations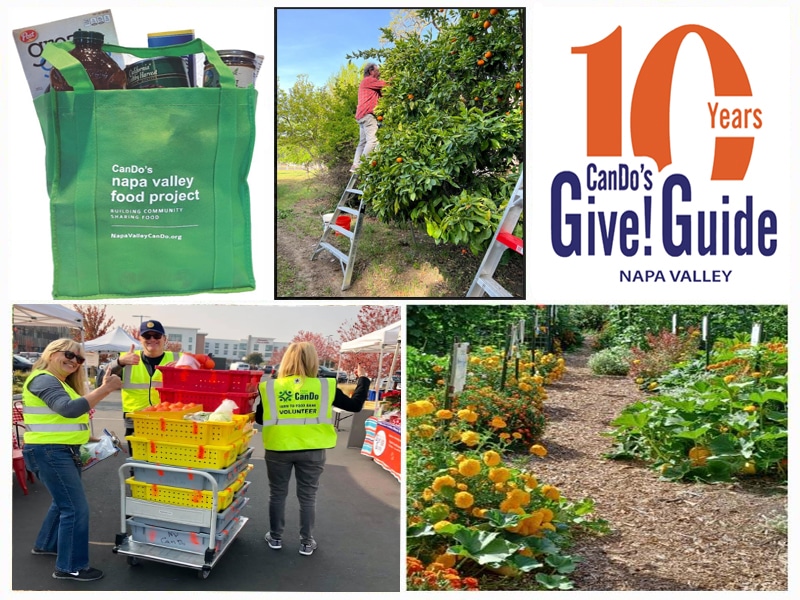 How We Impact the Community
We connect, inspire, and empower neighbors to take positive action through volunteerism. Our projects are based on a commitment to address unmet community needs. Beside CanDo's Give!Guide, four of our other current projects address food insecurity:  Garden for the Food Bank, Food Rescue Team, Napa Valley Food Project, and Gleaning Project. Our newest project, Stow It- Don't Throw It, aims to keep fishing line out of our beautiful Napa waterways.
"Since 2014, we've grown, collected, or gleaned a total of 364,803 pounds of food! It has all gone directly to the CAN-V Food Bank or, through our partnership with Feeding It Forward Napa Valley, to our neighbors who need it most.
In 9 years the Give!Guide has raised $4,619,485 for nonprofits serving our community.
CanDo is an all-volunteer organization with no membership requirements. We stay connected via a weekly eNewsletter that highlights done-in-a-day volunteer opportunities and community events.
Other Ways to Help
Volunteer with us!
We have done in a day projects, as well as weekly opportunities to get your hands dirty in the garden or gleaning fruit for the food bank.
Join the Napa Valley Food Project for the food bank. You can be a food donor or a neighborhood coordinator.
Sign up for our weekly newsletter to get connected.
You want to help, we make it easy!
Testimonials
Volunteering at the Napa CanDo Garden has been a fun and rewarding experience. Its great to be outside with a group of people, having your hands in the dirt and then see something sprout from your efforts.
Sue Swanson
Donors List
Share this campaign
Explore other nonprofits