St. Vincent de Paul, Napa
$

6,545
raised from
36

donations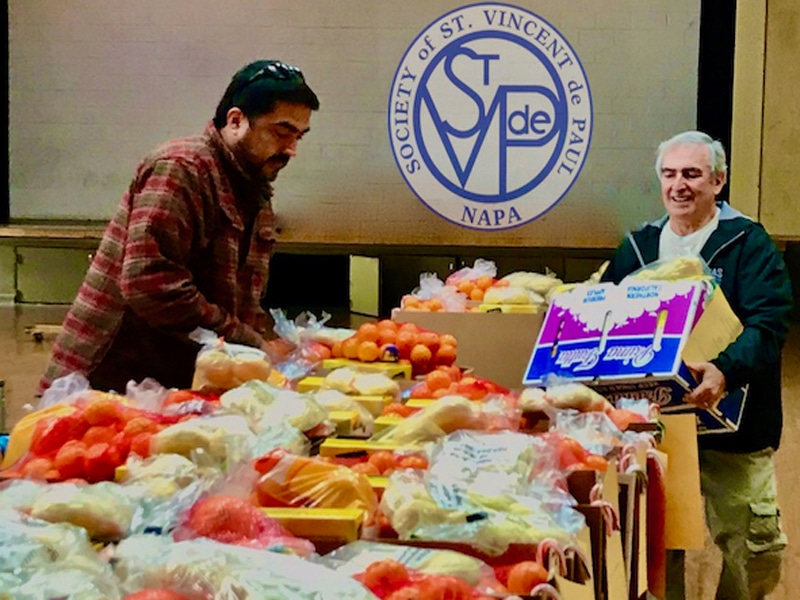 How We Impact the Community
What's more important to the children, seniors, and hardworking but financially challenged families in our local community than food on the table and a roof over their heads? Our volunteers choose to address those very needs  of our neighbors in this unique and diverse Napa community of ours.
Our  worldwide organization, founded in the 19th century, has been continually active in the Napa community since 1941, giving personalized, practical, "no strings attached" assistance to those in need, regardless of creed, color, gender, or circumstance.
By personal face to face contact with clients, often including home visits, we tailor our assistance to hundreds of individuals and families every year; be it with access to healthy food or help with rent and utilities. Our Thanksgiving baskets alone serve 180 families. In these times of pandemic, rising housing costs, fires and food insecurity, our efforts have never been more needed.
Other Ways to Help
Serve as a bilingual interpreter answering our office phone to receive requests from our clients for assistance with food, rent, utilities.
Join us in personal home visits to clients.
Assist us in procurement, delivery, sorting, boxing and distribution of food, especially with our Thanksgiving Box project which reaches over 700 people in ~180 families.
Donate grocery gift cards and gas cards.
Donate Walmart, Target gift cards for non food essentials such as diapers, and household essentials.
Assist with development, expansion of data base, and social media support.
Testimonials
"You don't even know how much your kindness and urgency in helping a stranger like me has done for me. Please don't stop doing the important and non-judgemental work that you are doing."
"R.D."/ client
Donors List
Share this campaign
Explore other nonprofits